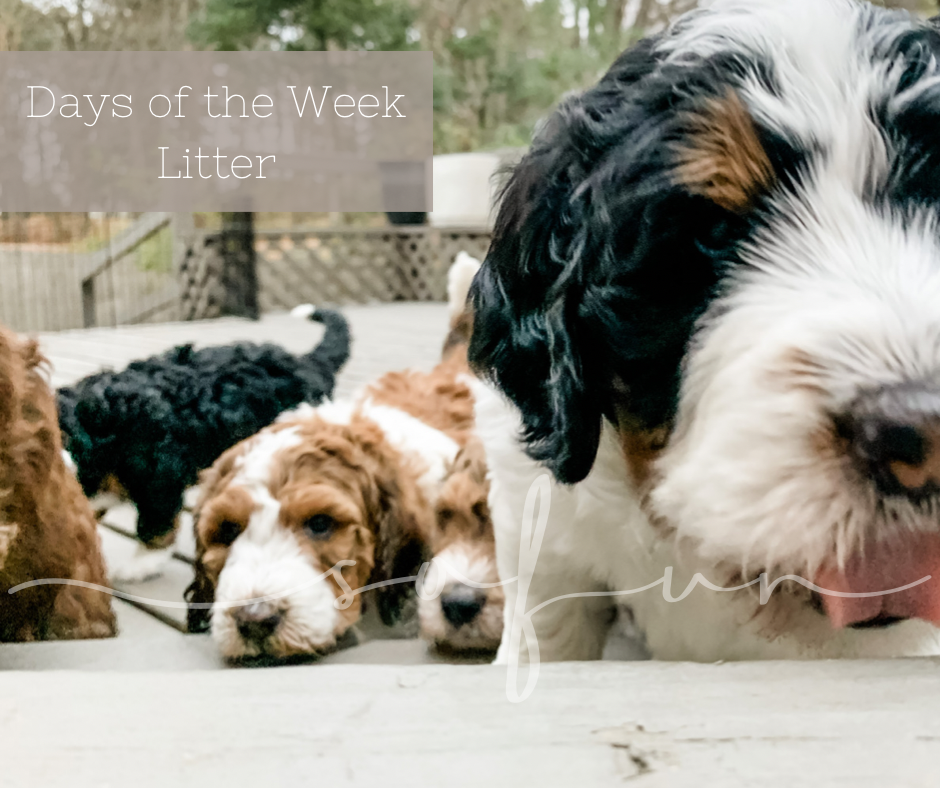 These little ones have my heart… each and every one of them. I am asked all the time who is my favorite… and I can't pick just one!! They're playing and rough-housing, and beginning to find their voices. My favorite is when I climb into the whelping box and they all come running for kisses and hugs!
Last week, I made the intentional transition to creating an "outdoor" space for them, just outside the whelping box, for their potty area. (Not really outdoors, but outside the whelping box.) I'm working to help them differentiate where to sleep and where to play and go potty, and they're doing well with it! These smart pups use the designated potty area frequently and are having less and less accidents "inside" of the whelping box.
I'm adding 3 small crates to their space to start introducing them to crate training. The doors will stay open for now as they learn to enter and exit them without fear.
Curriculum & Care: This week I will continue daily exposure activities with different items. They loved the mini ball pit I created last week and it's a favorite of when I put it in with them each day! I'll also continue the 10 daily handling exercises with slightly more pressure, and increase their feedings to 3 times a day and begin introducing soft kibble to them later in the week.
Attention Future Families!
Evaluations will happen the weekend of January 8-9! Yay! Evaluations videos of all the puppies will be sent to you immediately after they are completed, so you can see each puppy's results.
After evaluations results have been sent, I will contact each family in order of the reservation list to begin their picks. 🙂 Once picks are made, I'll send over a finalized contract to sign. Final payment is due at that time.
Reminder: I have updated puppy evaluation "scoring" information on the SoFun Families page under #7. Make sure to look at the score interpretations and what the test will be like.
PUP HOMECOMING IS: January 12, 2022
Litter Info:
F1b standard bernedoodles
Born: November 19, 2021 | 5 females | 2 males
"Sunday"
female, sable parti, 9.1 lbs, purple collar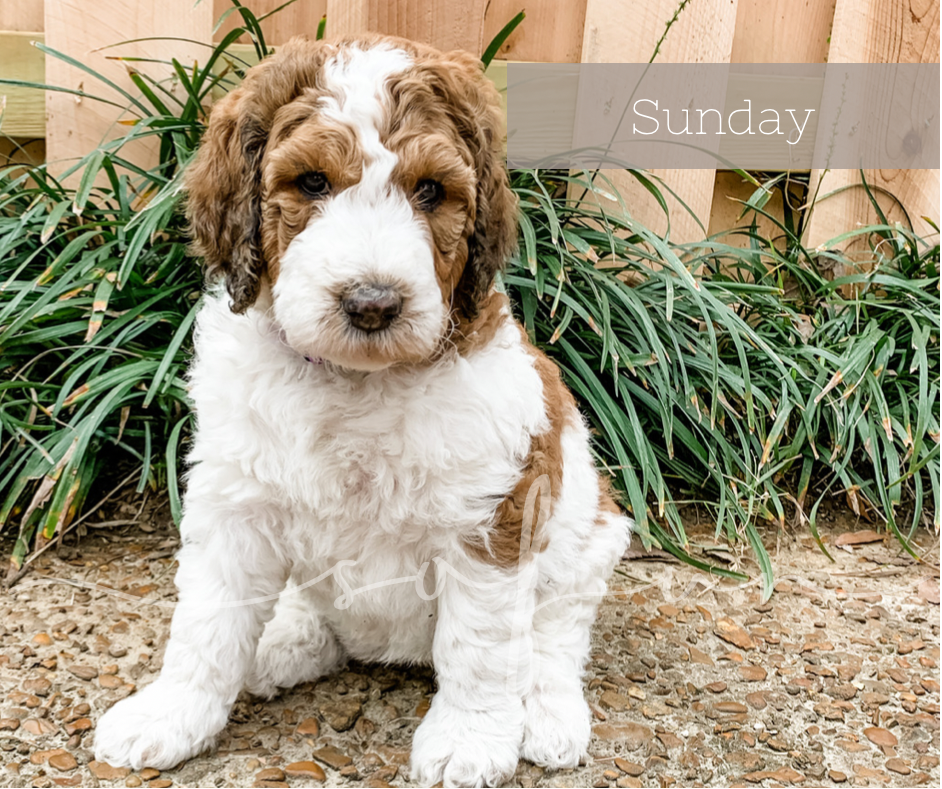 "Monday"
female, sable, 9.08 lbs, lilac collar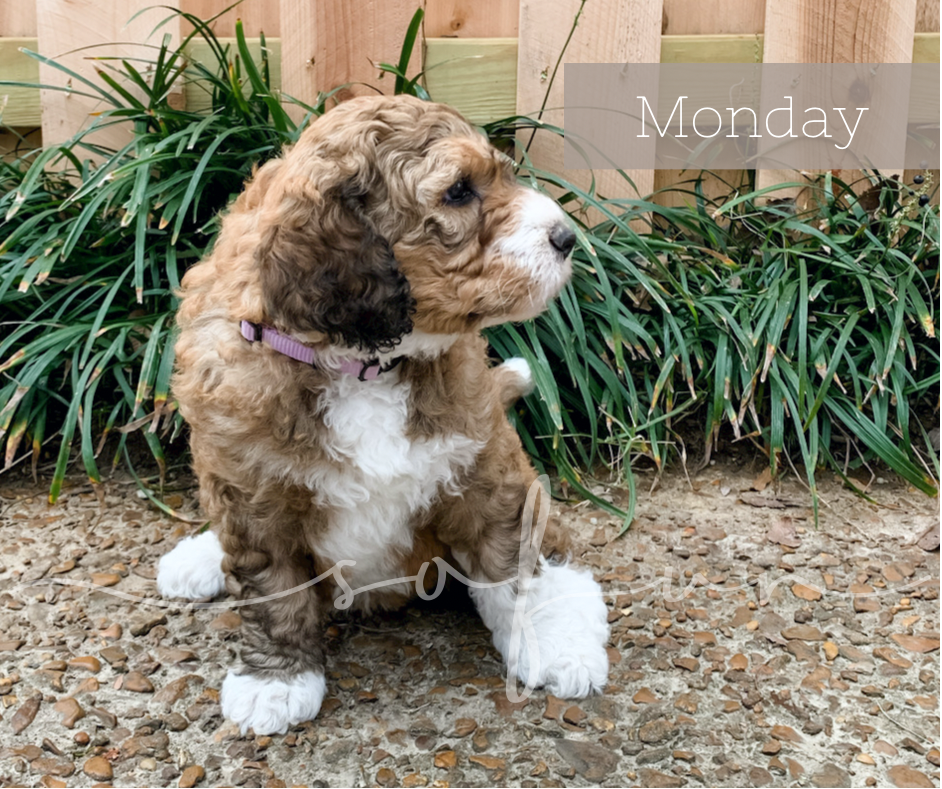 "Tuesday"
female, tri-colored, 9.02 lbs, white collar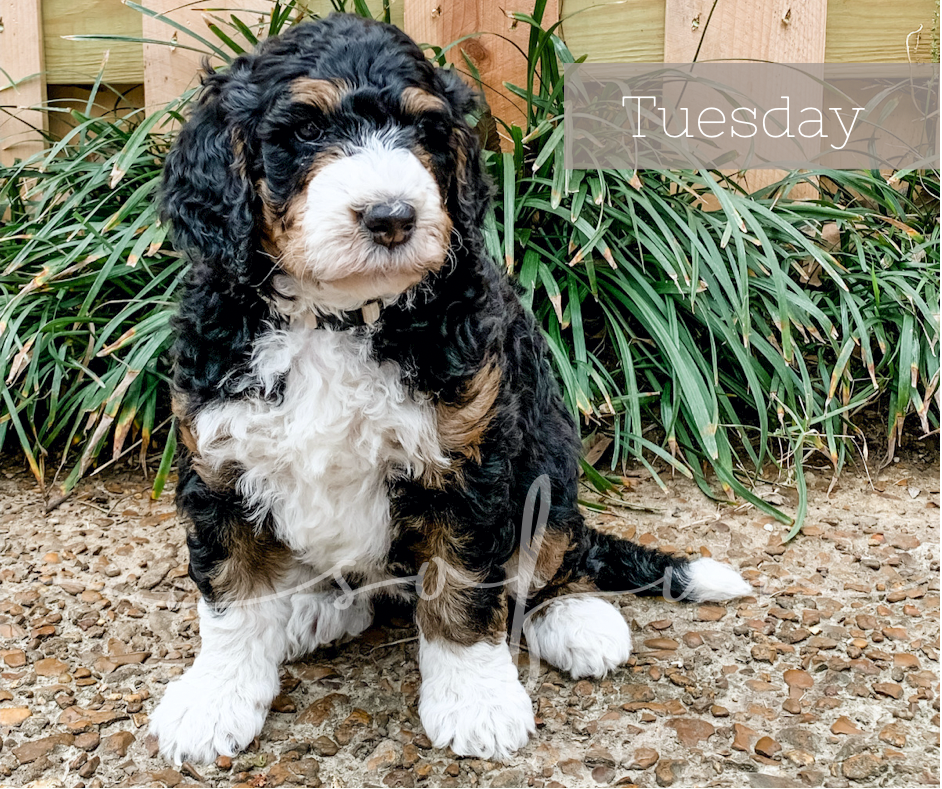 "Wednesday"
female, dark sable, 9.54 lbs, light pink collar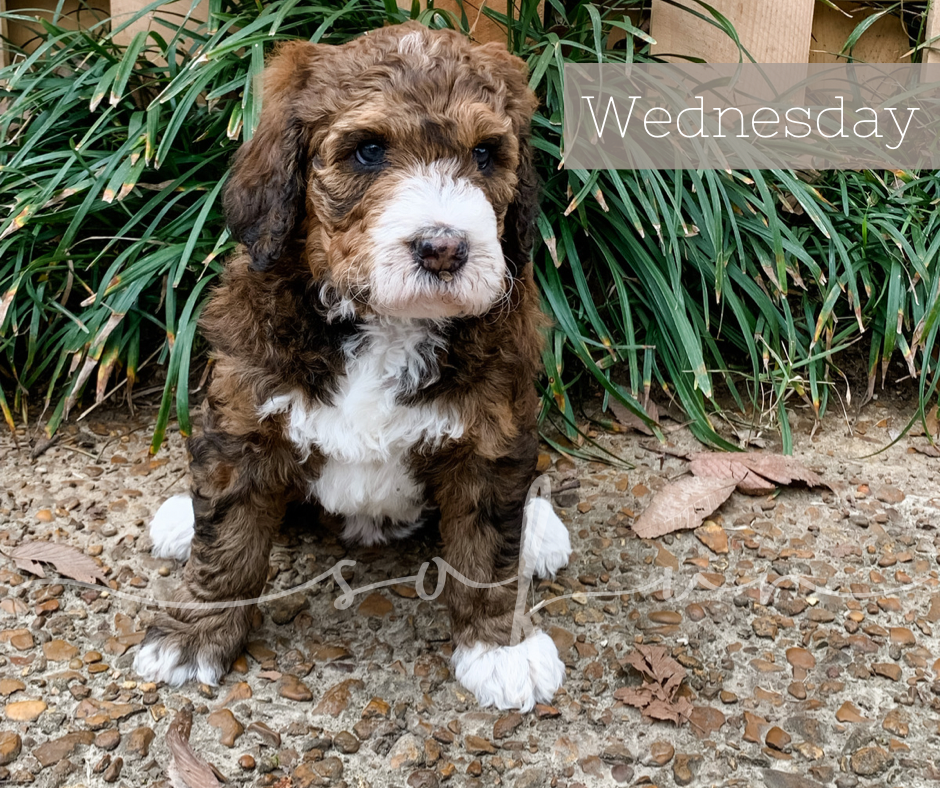 "Thursday"
male, black tri parti, 10.04 lbs, green collar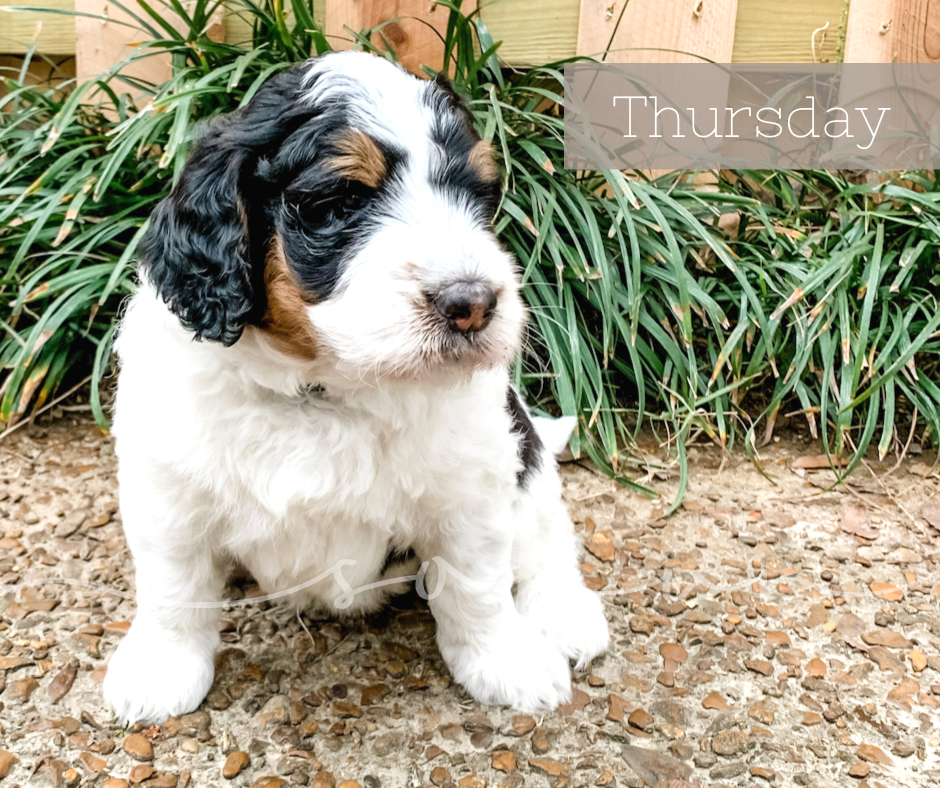 "Friday"
female, sable, 9.9 lbs, hot pink collar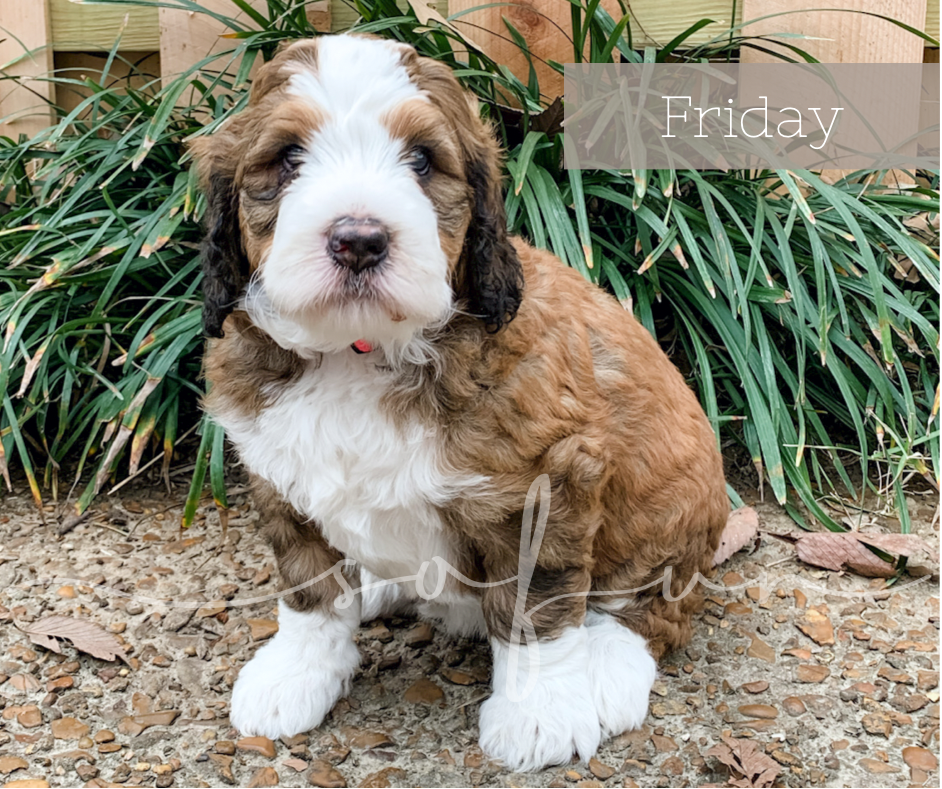 "Saturday"
male, dark sable, 9.5 lbs, blue collar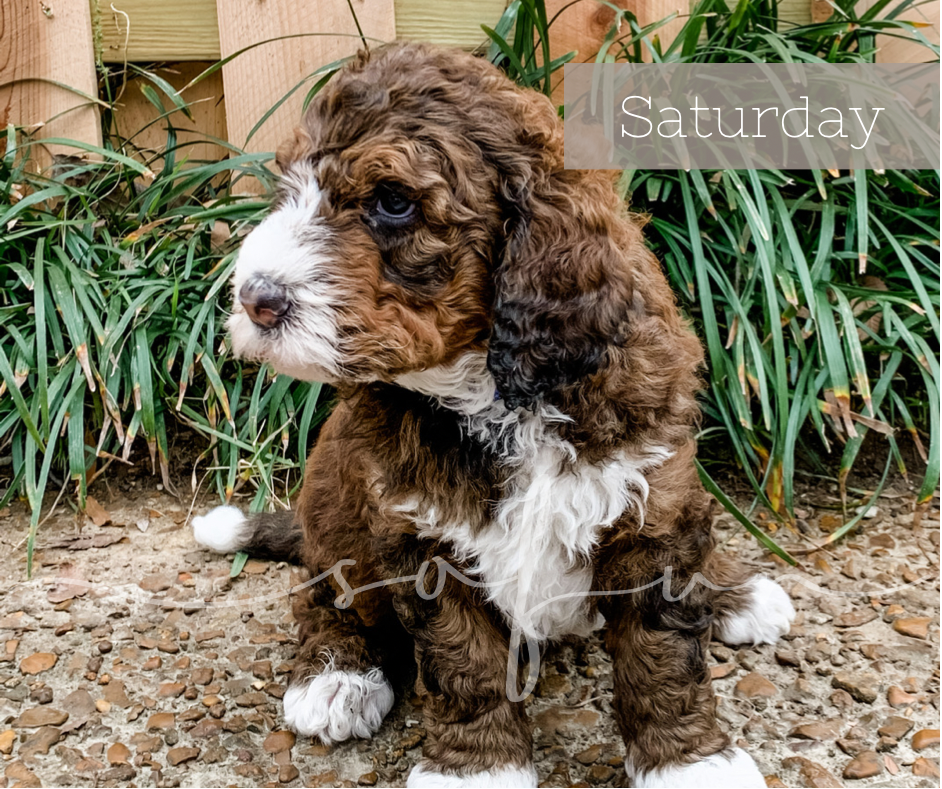 Interested in a future puppy? We have availability on the next bernedoodle and poodle litters! And waitlist members get first opportunity to bump up if a family passes on bringing home a puppy from this current litter.